HAPPY NEW YEAR TO ALL OUR CRUISERS!
LET'S MAKE 2017 A GREAT CRUZ'N NEW YEAR!
REGISTRATION IS AT THE BROWN COUNTY INN IN NASHVILLE
>>>>GO THERE FIRST, REGISTER THEN GO TO THE STATE PARK!!!!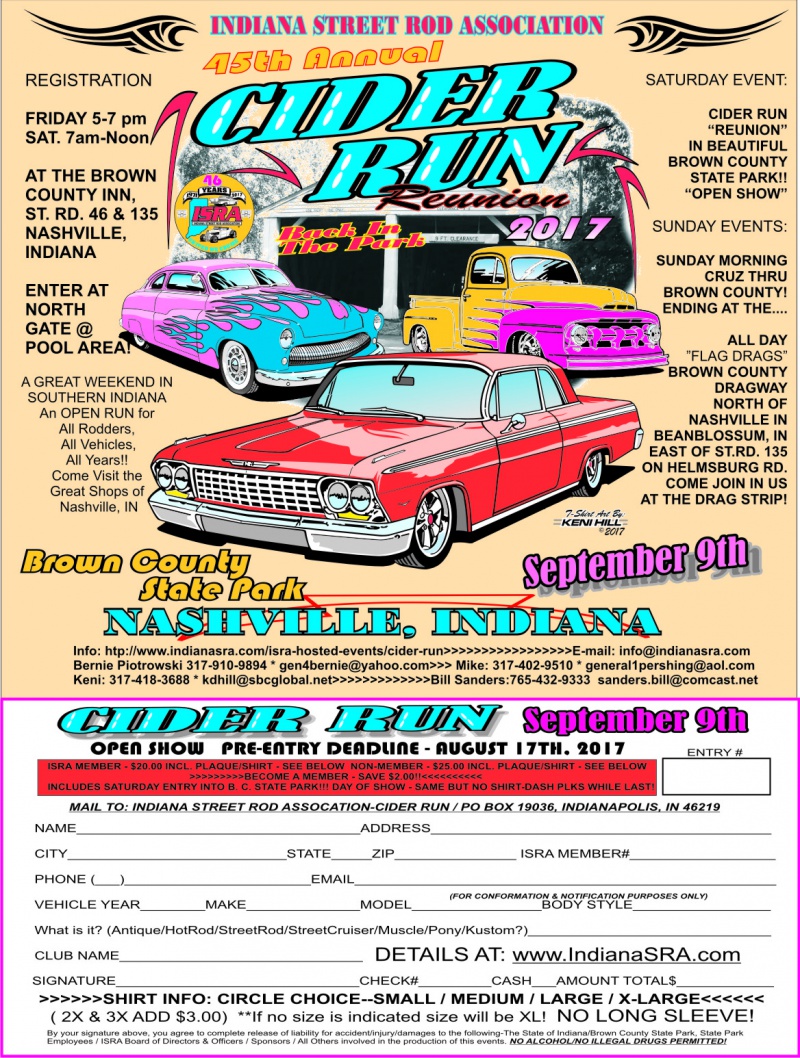 Brown County State Park - N. Gate Area
Nashville, IN
Open Event for All Members and Friends
---
UNITED WE CRUISE - FOR OVER 45 YEARS
Established 1971
Established in 1971 to promote the then "Street Rod" hobby on a statewide level, the I.S.R.A. continues to provide leadership, guidance, and fun events for the enthusiasts who favor safely driving their specialty cars wherever and whenever t
hey want.
The I.S.R.A. aims to assist in maintaining a close eye on any adverse legislation that would affect all vehicles while maintaining a good relationship with those who "make" the laws. Many states have, over time, passed and/or are passing legislation which is intended to remove unsafe and poorly maintained vehicles from the road, but without special consideration for modified and updated and antique / collectable vehicles. Such laws would severely restrict our hobby.
As hobbyists, we must inform and educate while being willing and ready to collectively demonstrate that we favor safety and a clean environment. ISRA intends to keep an eye on any adverse legislation which would prevent our right to build, own, and operate our vehicles.

Join Today!


ISRA Quick Reference (QR Code)
---
Latest Assocation Updates
(Click here to view all association updates)
CIDER RUN SEPTRMBER 9TH & 10TH, 2017
Get your entries in early for the fun in Beautiful Brown County State Park.
We have some awesome things in store for you so bring your
Buddies, your Friend and come to Brown County State Park and make a Day of it!
NOW IS THE TIME FOR ALL GOOD RODDERS TO PLAN FOR CIDER RUN 2016!!
NOTE IT IN YOU CALENDAR!
SEE Y'ALL IN BEAUTIFUL BROWN COUNTY, IN!
BRING ALL YOUR BUDS AND THEIR RIDES!
CIDER RUN NUMBER 44!!